Banks Football Club 40th Anniversary Gala Ball
Date: Saturday 3rd February 2018
Venue: Darwin Turf Club
Cost: $200 buy online at www.ticketebo.com.au
Dress: Formal (No Denim)
A whole week of activities are planned leading up to the Gala Ball
Welcome back for season 2017/2018
Welcome to Banks Bulldogs Football Club for season 2017-2018. This is a special year in many ways that will be touched on further in this address, this book and all throughout the season. To all of our new players and their families, a very warm greetings to our football Club. There will be plenty of opportunities for friends and family to engage and all are encouraged to get involved in any capacity, or just let your hair down at one of our functions which never cease to amaze.
Season 2017-2018 is BBFC's 40th celebration, our ruby anniversary of playing in the Top End. This year looms as something special for the Club with the expansion of teams, a loss of a dear friend and family member to go along with the four decades of memories. I encourage anyone new to our Club to ask a few questions about our rich history and I promise you'll be excited about this year. The celebration will culminate round 16 at our 40th jubilee at the Darwin Race Course after our home game. Thank you to all who have been involved in organising the week-long event.
We have welcomed a few firsts for the Club this year with the inception of Banks Netball entering three teams in the Darwin Netball Association. Congratulations to Crystal Deed & Emma Ellis and all those involved on and off the court on a fantastic season. The inclusion of Netball under the Club's banner is an extremely encouraging move in the expansion of our Club. Please spread the word of Banks Netball as we do of Banks Football and we as a committee and Club look forward to working alongside the ladies in blue and white.
Junior Football enters the third season at BBFC, with an entry of Banks under 14's a first for the Club that will join the under 12's. So much time and effort in organising, fundraising and recruiting has been done in the offseason to make this program viable and successful. Chris Pick will coach the under 12s again and welcome Luke Tyrrell who will take the reins of our under 14s. Once again, BBFC will offer our juniors the opportunity to play for free, with the Club choosing not to charge registration, insurance or merchandise. This is a fantastic initiative by the committee and we have had stellar responses from parents and friends. If you have or know of and boys or girls eligible to play with grade please contact a committee member. Strong juniors is where it all starts. Go Pups.
Once again the committee has been voted in and I am proud and excited by the calibre of these volunteers. Thank you all in advance for what will no doubt be a challenging yet deservedly successful year ahead. To the outgoing committee, I also thank you for leaving the Club in a strong position. We, as a committee have been working since May to ensure we are ready to go on and off the field. BBFC has always been two teams but one Club, now we have 4 Football teams and 3 Netball teams while it doesn't have the same ring to it, the message is still the same. One Club. The tireless efforts of the committee should be and are appreciated by the players and families new and returning. I encourage and implore anyone who wants to get involved off the field please approach us and let us help you get involved on any scale.
The coaching landscape has largely stayed the same with Jeffrey Smith assisting Mark Tyrrell in the Division 1 this season. Thanks gents for signing on and as a Club we are 100% behind these men to lead our Club to where we deserve to be, on top. Andrew Pope and Ray Scarlett coaching the 16-17 Premiership winning Division 2 side for the second year. Our coaches put in hours of work behind the scenes and this does not go unnoticed, please support these guys and I guarantee they will repay the favour in spades.
To this year's captains, congratulations. It is a great honour to lead our Club and I am full of confidence that the right men have been chosen. Brad Taheny will captain the Div 1 for the first year, replacing Will Johnson. Will has captained this Club for the past 5 seasons winning every award possible and leading by example on and off the field. Chris Pick will captain the Division 2 side and we all know what he is about. A quality footballer, leader and most importantly a great man to run out behind or lend his ear for a chat. Both of these appointments are steps in the direction of premiership glory.
The loss of Mike "Harro" Harrison rocked our Club and community like nothing has before. Harro died in July this year in a tragic accident doing what he loved, fishing. For those who didn't have the pleasure of meeting Harro, he was the most giving, selfless, quality man I have ever met. Harro is the one and only Banks Legend Life Member. He captained, coached, won premierships, was president and held about every position possible in his tenure. The loss of Harro will be raw in our hearts and minds this year. I know he would be looking down on us stroking his moustache with an icy cold schooner of horse beer in hand. This one's for Harro.
This year presents as a massive season for our growing Club. Challenges provide opportunities that will be met. The way we handle ourselves when these challenges are presented will decide the results we deserve. We, as a family will meet these times as a united front, pleasure and pain dealt with together as ONE CLUB and no doubt will come out the other side as a better Club and we better mates.
Go Dogs

Nick Twelftree
Club President
Past Premiership Player
SENIOR COACH'S ADDRESS
Welcome to all new and existing players for the Season 17/18
Firstly, can I say how privileged I feel to be coaching this fantastic football club for a fifth season.
Over these five years I have amassed a huge amount of love and respect for everything the club is and stands for. I want to continue to do everything in my power to make it a club of sustained success at all levels and to uphold it's culture, which is admired from up close and afar around Australia.
This season has greeted us with a sad beginning, losing the Patriarch of the club Michael Harrison.
It is with tentative steps, as the coach of the club, that we formulate how we move forward and ensure that whatever we do as a club to honour "the legacy" of this great man, we do it everlasting.
We begin Season 17/18 in a similar position to the last - a healthy playing list and few departures. We have picked up some very handy early season recruits and are working tirelessly on securing some big-name recruits later in the year; all thanks to the outstanding work of our recruitment manager Brad "Babs" Weise.
This season will see a changing of the guard with Brad Taheny taking over the captaincy of the club from legend Will Johnson.
In Will's 5 years as captain he has been pivotal in the on-field output of the club's players. His ability to lead men has been outstanding and I have no fear that Bradley will lead the club into a new era with the same level of success.
Andrew Pope will continue as coach of the Killer B's after a fantastic premiership winning season last year. Again, the astute and legendary leader Ray Scarlett will be his assistant.
To our sponsors both old and new, I welcome you on board and assure you of the Club's appreciation and support of your businesses at all times. I look forward to catching up with you at various Club functions and events throughout the season.
To all involved in the sometimes thankless task of game day set up we thank you in advance. We know that without your tireless efforts week in and week out, great clubs like ours don't function.


Mark Tyrrell
Senior Coach
Banks FC
Club Captains' Address

Welcome to a huge season for the club, to all new players and their families and to all players that are going around again. Great to be back.
Season 2017-18 has come around fast! Wouldn't want it any other way either. The feeling amongst the group has been sensational and the new blokes have settled in well.
As newly appointed captain I'd like to thank Barra, Will Johnson for passing the baton onto me and all the assistance he's provided me in becoming a better leader. Massive shoes to fill but I'll do my best in leading the club in the correct manner on and off the field.
The feeling at training has been bloody unreal. Positive numbers and plenty of new faces, the vibe is up and about. Mark Tyrrell and Andrew Pope have been re-appointed as division 1 and division 2 coaches respectively. With this appointment being made we are in very good hands. Line coaches will also be selected and will oversee their respective positions. With the leadership and coaching being dispersed over several different people and the current vibe within the playing group, I am confident we are headed for success this season.
This season will mark our 40th year anniversary and we also mourn the loss of club legend Mike Harro Harrison. I know that this is driving the playing group along to achieve the ultimate success this season. Combine that with being arguably the best team in division 1 the last two seasons and walking away empty handed in March, we are hungry for success.
The senior playing group has taken it upon themselves to assist and attend the juniors games and trainings. This is setting a standard that we hope they will follow once they progress into our position. Unfortunately the Pups fell just shy of a maiden premiership last season. I'm sure Picky will tweak a few match day strategies to go one further this season.
Thanks to all the sponsors that have recommitted to the club again or are first timers. We appreciate your support and will hopefully be celebrating a couple of premierships at seasons end with your logos on our jumpers.
I cannot be more excited to lead the club into season 2017-18, we will continue to keep working hard on the track to give ourselves the best possibility of success on match day.
Woof Woof.
Brad Taheny
Club Captain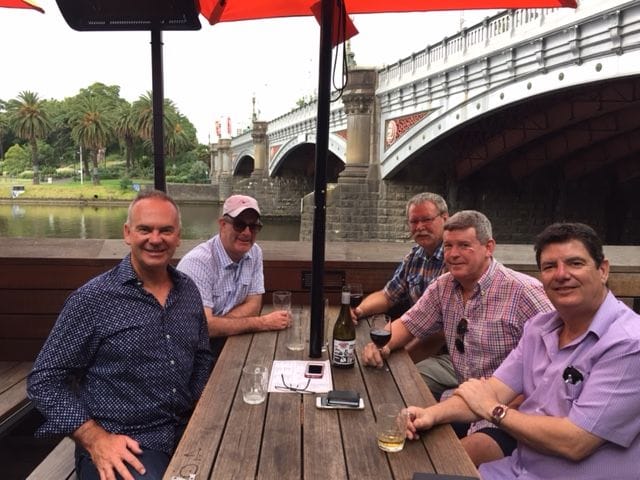 OLD DOGS!!
Here is a photo of 5 past premiership players who still catch up for a drink.
David Parkinson (Parko), Allen Lehan (Gutter) 1982 Premiership Captain, Roger Ind (Mad Dog), Barry O'Connor (Bluey) played in 1982 Premiership, Kurt Johansen (KJ)). All played in the 1981 Grand Final together. 36 years on and they all still catch up!!! GO DOGS!!